Enforce health and safety without generating resentment, work refusals, backlash and other negative "side effects".
This video and facilitator's guide will teach your management and supervisors proven guidelines for confronting non-compliance ... understand why people are breaking rules ... overcome enforcement difficulties ... conduct positive meetings with employees and avoid work refusals, rebellion and sabotage.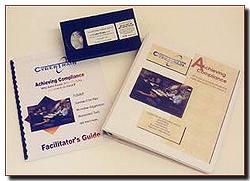 This program will help you ...
understand why rules are broken and what to do about it
cut costs on worker's compensation, insurance premiums, government fines, lost production, litigation, legal fees and more
overcome enforcement obstacles
confront non-compliance step by step
conduct a positive disciplinary meeting
define the positive and negative consequences
avoid work refusals, rebellion, backlash, sabotage and other negative "side effects" of enforcement
be fair and consistent when taking progressive disciplinary action
achieve due diligence
become a leader in safety by achieving 100% voluntary compliance.
This fast paced, humorous and informative program is a "must have" for all those responsible for dealing with non-compliance in health and safety. The model guidelines shown throughout this program are based on over twenty five years of experience in supervisory training. Our model is reinforced by an actual demonstration in which viewers are challenged to make a personal commitment to achieve compliance.