www.CyberTrain.on.ca
presents:
In house seminars available upon request with a minimum class size of 10 participants
ACHIEVING COMPLIANCE
"WHY SOME PEOPLE BREAK THE RULES AND WHAT TO DO ABOUT IT"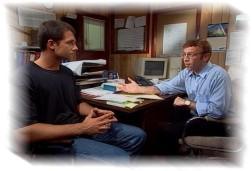 This highly interactive seminar includes:
33 minute video presentation
discussions and workshops
step by step guidelines for dealing with confrontation and disciplinary meeting
extensive participant manual with workbook
a variety of visual aids
certificate
3 ½ floppy disk containing helpful forms for each participant.
Our "Train the Trainer" program enables you to learn this program and how to teach it to your people!
You will receive these additional items:
33 minute "Achieving Compliance" video and facilitator's guide
an extensive leader's manual and participant manual
valuable resource material
overhead transparencies
certificate
a compact disk to facilitate computer presentations.
Focus:
The requirements of the Part Two Certification Training, as required by the Workplace
Safety and Insurance Board.
Learn How To:
Conduct a workplace hazard assessment
Determine which hazards are significant
Involve your Joint Health and Safety Committee in the process
Prepare an action plan to complete your training requirements
Complete the required documentation
Presentations
Looking for a qualified trainer to speak at an upcoming function? We can provide informative, fast-paced and entertaining speakers on Achieving Compliance to suit your event.
Who Should Attend?
Managers, Supervisors, Forepersons, Team Leaders or anyone responsible for Achieving Compliance.
A Division of John A. Ford & Associates Inc.
24 Baylor Crescent, Georgetown, ON L7G 1A6 ph. (905) 873-3031 fax (905) 877-7147